I used to do cap!spams for Legend of the Seeker, AND NOW I'M DOING THEM AGAIN. I intend to do it all season for Doctor Who, series six. (I also mean to do a rewatch and whatnot for The Vampire Diaries, BUT ANYWAY) Series six opens with
The Impossible Astronaut
. And it is impossible. And insane. And brain breaking. And this capspam is long, as is the speculation I rambled out here and there.
WARNING: many, many images. 52 TO BE EXACT.
all caps from
here
.

6x01 THE IMPOSSIBLE ASTRONAUT



MOMENT OF SILENCE QUIETNESS FOR THIS. ;_; I only saw the Sarah Jane Adventures a couple of times and briefly saw the Who episode with her but I cried when I heard she'd died. OH, MY SARAH JANE.



I'm going to sum up the pre-America beginning right now with this and a what? The Doctor is trolling history, APPARENTLY, but I ask: Why?



RORY: WOO GROCERIES
AMY: DNC, BUSY TRACKING THE DOCTOR'S TROLLING AND BEING INCREDIBLY GORGEOUS
RORY: Understandable.

This whole episode looks so different than I think series five did. It's lit differently, the cinematography is different, IT ALL FELT DIFFERENT. It was strange. Also. AMY IN PURPLE PLAID I am dying of happy.



Rory watches some old comedy... thing. (MY DAD RECOGNIZED IT but I don't know what it is, so.) Let's talk about the DOMESTIC PONDS and the Doctor waving to them out of history. So, it's been two months and the Ponds live in a... house? flat? PLACE. And it's really modern and lovely and I support the theory that Rory is relatively loaded~, money-wise. LEGIT.

I do wonder how the Ponds ended up separated from the Doctor? WILL WE FIND OUT? Will we ever know what happened in those two months? ... DOES IT MATTER?



AMY: WE HAS MAIL
RORY: I LIKE MAIL

But then, the Ponds receive a ~mystery summons~. A time, a date, a map reference. They don't know who it's from it's TARDIS blue. Also, marked #3. Which I didn't notice until later but anyway.

It's implied that the Doctor sent the messages but I've seen speculation that he didn't send the messages. Which, while interesting, I DOUBT. Given the way the Doctor obviously expects them when they arrive, I think he definitely sent the cards. I don't know how else it would make sense?

OH. AND AMY IS GORGEOUS KJDNJBNJHBJHDBH



River receives a card as well, in Stormcage. And it's clear that she can apparently break out any damn time she likes. Which... I don't know how to feel about that. It was cooler in The Pandorica Opens that she broke out before learning that she could do it whenever she likes BUT it's still really cool and kind of amusing.


"You might want to get down here sir, she's doing it again. Doctor Song, sir, she's... packing. Says she's going to some planet called America."


At that line I was like LOL RIVER and then DAMN STRAIGHT A PLANET CALLED AMERICA. /ahem anyway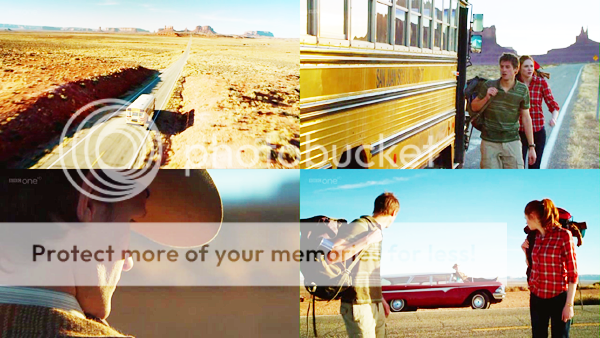 So the Ponds go to Utah. I HAVE SO MANY FEELINGS ABOUT THIS. So many. I mean, seeing a desert-y place and recognizing (MORE OR LESS) the place and the different lighting was STRANGE and WONDERFUL. Usually watching Doctor Who feels so... British? BECAUSE IT IS BRITISH. And when it isn't British? ALIEN. Which is lovely! But it was interesting to see the British and the Alien in Utah.

I was not as overjoyed to see the Doctor in a Stetson as I'd thought I be. And if Amy and Rory backpacked to Utah DID THEY WEAR SUNSCREEN? I AM BETTING THEY MUST HAVE. UTAH HAS LOTS OF SUN? Idk I AM WORRIED ABOUT THEIR SKIN.



DOCTOR: HI MY BFFS
AMY: HI MY FAVOURITE ALIEN
RORY: HI I'M HERE TOO

I've seen it pointed out that it seems like the Doctor greets two "Ponds" and then greets Rory. Going with the "Amy is pregnant"-thing THIS IS INTERESTING. I would be fascinated if it turned out 1103!year-old Doctor knew that Amy was pregnant and finds out during the course of 909!year-old Doctor's time. And didn't mean to greet baby!Pond but it slipped. OR SOMETHING, I'm not sure that's sensible and I think it'd be more obvious if it were a thing. BUT I'D LIKE IT.

AND THEN RIVER APPEARS, and we can say goodbye to the Stetson SAD.

ALSO I note the Doctor has a car, and it appears he may have arrived in it? As in, we don't see the 1103!Doctor's TARDIS. When he died, it's not even mentioned, and the 909!Doctor and the companions bounce into the 909!Doctor's TARDIS. But I wonder where the 1103!Doctor's TARDIS is? Why doesn't anyone ask? I MEAN, SORT OF A BIG DEAL, RIGHT? Or... what? HMM.



Team TARDIS has drinks at a diner. (That is a really nice diner for the middle of nowhere I AM JUST SAYING.) (also: JIM THE FISH. I want to see the Doctor/River adventures DON'T GO OMITTING THEM, MOFF.) And the Doctor gets kind of... creepy.


"I've been running. Faster than I've ever run. And I've been running my whole life. Now it's time for me to stop."


THIS LINE IS INTERESTING. Running his whole life and we only hear about it now? And what has he been running from? It doesn't really make sense to be running from the Astronaut, does it? And still, why the 200-year jump in age? WHAT IS HAPPENING. Will we not find out until 6x13 (jsbdgjbsj I BET WE WON'T AHHH).



AMY: 1103? DAMN YOU GOT OLD.
DOCTOR: AND YOU GOT FAT, SHUT YOUR WHORE MOUTH.

NO BUT REALLY:

"1103? You were 908 the last time we saw you."
"And you've put on a couple of pounds. I wasn't going to mention it."


Also, DAMN UTAH, YOU PRETTY. I mean. Whoa. NOTHING HAS EVER BEEN PRETTIER EVER, NOT EVEN KAREN GILLAN'S FACE (that's a close second, ngl).



And then things get really weird. No, really. REALLY WEIRD. Some old dude shows up (my dad asked if that was the Doctor's ~Indian spirit guide~) and he and the Doctor acknowledge each other by wave. And Amy is like "... what'cha doing? I AM DRINKING MAI WINE SIT YO ASS DOWN."



There is an Apollo astronaut in the lake. OKAY, WHY IS THE ASTRONAUT IN THE LAKE. WHY. I mean. WHY. Even knowing who the astronaut (supposedly) is, I don't understand why it/he/she'd be in a lake in Utah. WHY WHY WHY.

The Doctor warns them to not interfere, no matter what happens. And his companions are like "... but we didn't finish our picnic?"



"It's all right, I know it's you." The astronaut lifts the cover on it's helmet, but the camera turns away before we can see. "Well then."

THE QUESTION IS WHO THE ASTRONAUT IS~ I don't think it's River. Unless River is trolling us all, which I really do doubt. Plus, why would River be in an astronaut suit in America. Given the little girl thing, many think it's a young River but... River has a British accent? THAT'S MY REASONING. jsdfjbshg What if it's Amy, an Amy from 1103!Doctor's time HAS ANYONE CONSIDERED THAT. Or Rory, for that matter. Or another Doctor. sdjgjksdbjh I CAN'T WAIT TO KNOW.



The companions watch as the Doctor speaks with the astronaut. We have no idea what he's saying and it is driving me mad. And then the Doctor bows his head and is... shot. THE LAKERONAUT SHOOTS HIM.

RORY: WHAT IS HAPPENING
AMY: I DON'T KNOW WHY DIDN'T YOU FUCKING LEARN TO READ LIPS?



Amy rushes forward but River/Rory stop her. I saw it mentioned how River holds Amy by the stomach, but I think that's just... bodily grabbing her? The companions watch as the Doctor prepares to regenerate, and he says "I'm sorry." I wonder, was he sorry he was dying or sorry they'd be forced to watch him die and/or would see him later after all this emotional trauma.

... I DON'T KNOW, I wasn't that worried about the Doctor? I was like, "... but set pictures show he's still Matt Smith during the rest of the season?!" And he already got locked away/died last season (and at the end of last season) so it felt... odd.



But then the Doctor is shot while regenerating, actually killing him. The companions now rush forward. River, finding he is dead, shoots at the retreating lakeronaut (AS I HAVE DUBBED HIM/HER/IT) but after missing says "Of course not" which made me go hmmmm. This isn't the first time we've watched River shoot down who's killed the Doctor-- in The Big Bang, she did much the same.

It also affirms the "RIVER IS NOT THE LAKERONAUT" theory because she wouldn't go shooting herself/being so upset if she'd expected this, would she? I THINK NOT. Plus, I don't think any of the witnesses (Amy, Rory, Canton, ... Silence) would get her put in prison from this. THE END OF THE MATTER FOR ME, OKAY.



The Doctor's mysterious truck-driving friend steps forward with a can of gasoline. (Can...ton? CAN. CANTON. shut up I'm hilarious.) The man affirms "That is most certainly the Doctor, and he is most certainly dead." WHICH. WHAT? WHAT. WHAT?

Amy is, quite rightly, SERIOUSLY WRECKED. During my first watching of this I felt she was over-acting but after rewatching/watching the confidential/seeing graphics SHE WAS PERFECT AND HEARTBREAKING AND KILLING ME D:

River says they have to burn the Doctor, Rory spots a boat so they can "do it properly". My dad and I were like "... THAT IS SOMEONE'S BOAT you just stole a boat! HOW UNCOOL." though either a) the doctor placed it there or b) WELL SOMEONE SHOULDN'T HAVE LEFT THEIR BOAT AT THE LAKE, REALLY NOW.

River says something that fascinates me: "We do what the Doctor's friends always do. As we're told." Just the way she says it made me jksdbjgabjsd everywhere. I think River, far more than Amy, is good at listening to the Doctor-- usually. She's very much a solider, sometimes, I think. IT'S INTERESTING.



They set the Doctor aloft and alight in the lake. I find it interesting that Rory is the one who finds the boat and sets him out onto the water.

ALSO, IN THE CONFIDENTIAL SAID THAT THE LAKE-SUNSET WAS A SUNRISE AND THAT FASCINATED ME OKAY.



The man is reveals himself as Canton Everett Delaware III. He also received a card-- marked #4, and River shows her's, marked #2. My dad noted that Canton hadn't opened his envelope and I thought maybe he'd used a letter opener but... maybe he just didn't open it? And if so, why not? Does it matter? DOES EVERY SMALL THING MATTER? ksnagjksbg I've become one of those show-watchers WHAT HAVE YOU DONE TO ME, MOFF.

"I won't be seeing you again, but you'll be seeing me." I LOVE CANTON, I hope we see him again-- both young and old! Also, I wonder what it'd be like to meet a group of strange people and then fifty or so (MATH IS HARD) years later to see them again and they haven't met you yet. TIMEY-WIMEY. I wonder also why he assumes he won't see them again?



They return to the diner. Amy is still distraught-- and River and Rory are not helping her cope, with their theories and whatnot.

"Shut up, it doesn't matter."
"He's dead."
"You're still talking, but it doesn't matter."

OH AMY ;_; Karen Gillan is brilliant. I love how she's bitter and upset and River/Rory are still functioning. It's an interesting insight to how Amy reacts to things like this, she doesn't go theorizing after she's lost such an important part of her life while River and Rory are more solider-y and try to figure out what the Doctor was planning.

Rory and River find another card-- marked #1. Who did the Doctor trust the most? WHILE WE'RE TALKING ABOUT THE NUMBERS, I find it interesting that 1103!Doctor trusted River more than Amy/Rory whereas 909!Doctor makes it clear he trusts Amy more than River, later in the episode. By 1103!Doctor's judgement, River is #2 and the Ponds are #3. INTERESTING.



... and in walks the Doctor. UNSURPRISINGLY, EVERYONE IS SURPRISED. River is pissed, Rory's shocked, and Amy is kind of glad that he's okay.

I didn't think much about it when the Doctor/Amy hugged but after seeing it noted, I think it is jsnajdgbajs-worthy that he's so confused about why his little Amelia is so upset (and I think shows more about his later reaction to her asking him to trust her).

"This is cold. Even by your standards, this is really cold." THIS LINE INTERESTS ME. River finds the Doctor cold? OH REALLY?

I find it interesting that River asks Amy to ask him how old he is? OR ODD, AT LEAST. But anyway: this Doctor is 909-years-old. And doesn't know what's happening.

AND RIVER SLAPS HIM. "Okay... I'm assuming that's for something I haven't done yet." "Yes it is." I think the way River speaks lets show her hurt, much like how she said "As we're told." I think while she doesn't outright say it SHE IS NOT OKAY WITH THIS FUCKERY. But she will deal because she knows she has to.



DOCTOR: WHY ARE WE HERE
RIVER: RECRUITED
DOCTOR: BY WHOM?
RIVER: SPOILERS
DOCTOR: K THEN

And River is the Spoiler Police, and is forced to induct Rory and Amy into her Order of No Spoilers as they can't tell the Doctor that he himself recruited them. It's really interesting how everyone is separated in this episode. Back in Vampires in Venice it was the Doctor+Amy and then Rory, in Time of Angels/Flesh and Stone it was Doctor+Amy and then mysterious River. In the beginning of this episode it felt like a strange mix of Doctor+River and Amy+Rory and also Doctor+Amy and River+Rory, but now it's Amy+River+Rory and then the Doctor. The Doctor is out of the loop. WHEN DOES THAT EVER HAPPEN.



The Doctor is his rambly self, but no one is playing with him. He asks Rory is everyone is cross with him, but I note that technically Rory isn't cross with him, just River and Amy. I wonder what this says, if anything. That Rory isn't a part of "everyone"? That "everyone" just means "the womenfolk"? IDK, THIS EPISODE HAS BE ANALYSING EVERYTHING FOR NO REASON.

But basically: The Doctor knows something is wrong, but not what. IT BREAKS MY HEART.



The Order of No Spoilers has a meeting under the console.
AMY: WHY DID HE DO THIS
RIVER: IDK BUT WE CAN'T TELL HIM ANYTHING~
AMY: WHY THO we did something similar before
RORY: "In all fairness, the universe did blow up."

DOCTOR: "I'm being extremely clever up here and there's no one to stand around looking impressed. What's the point in having you all?"

OH DOCTOR, YOU KITTEN YOU


"Time isn't a straight line, it's all bumpy-wumpy. There's loads of boring stuff, like Sundays and Tuesdays, and Thursday afternoon. But now and then there are Saturdays. Big temporal tipping points when anything's possible. TARDIS can't resist them, like a moth to a flame. She likes a party, so I give her 1969, NASA, because that's space in the 60s. And Canton Everett Delaware III, and this is where she's pointing."

The Doctor seems okay but then all the secretiveness gets to him and he just whumphs (YES, WHUMPHS) down. The Doctor is not okay with this-- whatever this is.



River asks him to trust her on this-- the Doctor literally scoffs at her. "Now I love a bad girl me, but trust you? Seriously?"

Amy steps forward.
"Trust me."
"Okay."
"You have to do this. And you can't ask why.
"Are you being threatened? Is someone making you say that?"
"No."
"You're lying."
"I'm not lying."
"Swear to me. Swear to me on something that matters."
(long pause)
"Fish fingers and custard."
(pause, the Doctor smiles at Amy)
"My life in your hands. Amelia Pond."

1. THIS EXCHANGE KILLS ME. In so many ways. "My life in your hands." He's placing his life into her hands and she knows it'll end in his death ksjdfjksbndjkf.
2. Considering what Karen said about Amy's throwaway lines "meaning more", I have been looking at everything she says: including "Fish fingers and custard." What if that doesn't mean what we think it means? It sounds like she's just swearing on something that matters to the two of them but what if it's a ~code word~ or something I AM JUST SAYING OKAY.
3. He immediately thinks she's being threatened. Considering this rumour/idea/thing that the Silence edits your mind and stuff like that, it's interesting.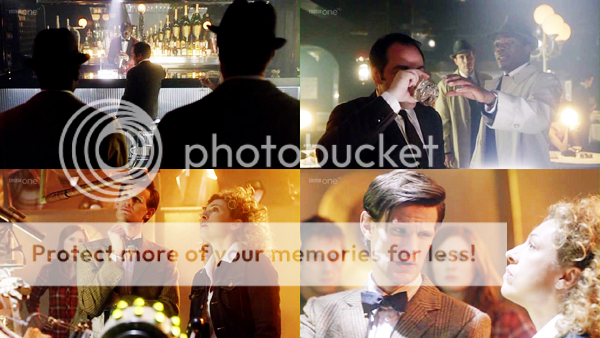 POOR CANTON, BOTHERED AT THE BAR.

"You were my second choice, Mr. Delaware."
"That's okay. You're my second choice for President, Mr. Nixon."

UTTER BURN


"Richard Milhouse Nixon. Vietnam, Watergate. Some good stuff, too."
"Not enough."
"Hippie."
"Archaeologist."

I think this says a lot about the differences between River and the Doctor. The Doctor is a peaceful (if often forceful) man, a pacifist who hates guns and trolls history. River comes in guns blazing, shoots things that upset her, and finds history fascinating-- though she can troll it as well (see: The Pandorica Opens. RIVER TROLLED EVERYONE.).



shdfgbsjdgb the oval office THE OVAL OFFICE

I WAS SO !!! OVER THE OVAL OFFICE, OKAY



RIVER > THE DOCTOR AT TARDIS PILOTING. It's wondered who taught her; my theory as she taught herself. The Doctor clearly didn't, I think she must have just learned by figuring it out (though the Doctor taught her some things, clearly).



njafdjdbsjfsdjbf the Doctor lands the TARDIS in the Oval Office, while Nixon and Canton listen to a recording of the child who keeps calling Nixon. And proceeds to creep. I love how he gets out a notepad.



OF COURSE, HE GETS CAUGHT. And he waves to them to carry on~ and then is like "... whoops."


"Oh, this is the Oval Office. I was looking for the... Oblong Room."

jsbajbhshdj THEN HE WALKS INTO THE INVISIBLE TARDIS this is such brilliance I cannot even deal.



Somehow the Doctor gets behind the President's desk and all the secret service folk pull their guns on him.


"Fellas, the guns, really? I just walked into the highest security office in the United States and parked a big blue box on the rug. You think you can just shoot me?"
"They're Americans!"
"Don't shoot! Definitely no shooting."

LOL. JUST LOL. Basically it's like River, the trigger-happy companion, is calling the Americans trigger-happy. I THINK. I am amused, anyway.


"I'm your new undercover agent, on loan from Scotland Yard. Codename: The Doctor. These are my top operatives; The Legs, The Nose, and Mrs Robinson."
"I hate you."
"No, you don't."

1. I wonder why the Doctor chose to call Amy and Rory "The Legs" and "The Nose" when I would have gone with "The Ginger" and "The Roman". JUST SAYING.
2. ... did no one think to call Scotland Yard to verify his story? JUST SAYING.
3. lol

"Who are you?"
"Nah, boring question. Who's phoning you? That's interesting. Because Canton III is right. That was definitely a girls voice, which means there's only one place in America she can be phoning from."
"Where?"
"Do not engage with the intruder Mr Delaware!"
"You heard everything I heard it's simple enough. Give me five minutes, I'll explain. On the other hand lay a finger on me or my friends and you'll never, ever know."
(pointing to the TARDIS) "How'd you get it in here? I mean, you didn't carry it."
"Clever, eh?"
"Love it."
"Do not compliment the intruder!"
"Five minutes?"
"Five."
"Mr President, that man is a clear and present danger."
"Mr President, that man walked in here with a big blue box and three of his friends, (indicates Carl) and that's the man he walked past. One of them is worth listening to. I say we give him five minutes. See if he delivers."
"Thanks Canton."
"If he doesn't, I'll shoot him myself."
"Not so thanks."

kjsbfd this episode is so quoteable I cannot even


"I'm going to need a SWAT team ready to mobilise, a street map covering all of Florida, a pot of coffee, twelve Jammy Dodgers and a fez."
[Pause]
"Get him his maps."

AND THEN THEY LOOK AT MAPS

Amy sees a creature in the doorway; the same she saw at the lake. But when Rory blocks her view, she forgets. And then she gets a stomach pain, the first.



In the bathroom, she finds the monster again. She asks "What are you?" which I find interesting, given that she's more less used to aliens (... isn't she?), so I'd think she'd go with "Who are you?"

ANYWAY. CREEPY.



Amy sees the memory editting in action when a lady sees the monster, laughs, and then forgets when she looks away. RINSE AND REPEAT. And then the monster disintegrates her. LIKE. WHAT THE ACTUAL FUCK. Someone's going to have to mop that ash up, DUDE.



AMY: WHAT THE ACTUAL FUCK WAS THAT
SILENCE: "Joy. Her name was Joy. Your name is Amelia. You will tell the Doctor."
AMY: ... I AM GETTING MY PHONE OUT AND GETTING EVIDENCE OF YOU

jksdnfjbsdgj I love that Amy thinks to get out her phone after seeing a woman disintegrated in the White House restroom. ... I WONDER IF SHE GETS ANY BARS THERE?


"Tell him what?"
"What he must know, and what he must never know."
"How do you know about that?"
"Tell him!"

LET'S TALK ABOUT THIS EXCHANGE.
1. "What he must know" AND "what he must never know". Am I the only one who wonders if he/it means two different things? Must he know he dies, must he never know he dies? Must he know she's pregnant, must she never know she's pregnant? MIXED SIGNALS EVERYWHERE.
2. "How do you know about that?" this makes more sense in light of what she tells him, since it seems sensible (given his appearance at the lake) that he'd know about the Doctor's death. But it's interesting that Amy's mind jumps to that, jumps to asking that. WHAT DOES THIS MEAN
3. WHAT KIND OF FUCKERY IS THE SILENCE UP TO



Amy rushes out. And forgets everything that just happened. I LOVED THIS MOMENT. The way she knows she needs to tell the Doctor something, looks at her phone like "oh why am I holding this?", doesn't quite know what's happening. jsafb and the guy's face when she says that that small thing is her phone. HE THINKS SHE'S CRAZY AS FUCK, MOST DEFINITELY. He's probably like "... crazy british people CRAZY PEOPLE idefk".



JEFFERSON CALLS AGAIN, and the Doctor + crew bounces off. I love how Nixon is like "I'm sending my best people." LOL. THE DOCTOR IS "ON LOAN" AND CANTON WAS FIRED.




Canton's like "... what". And Rory has to straighten him out wait no shouldn't... put it like that make his brain nonspoldey.



Doctor/River FOREVER



TEAM TARDIS SCOOBIES IT UP

You realise that this is almost certainly a trap, of course?"
"I noticed the phone, yes."
"What about it?"
"It was cut off. So how did the child phone from here?"
"OK. But why would anyone want to trap us?"
"Don't know. Let's see if someone tries to kill us, and work backwards."

1. Was it a trap? I CAN'T TELL
2. How did the little girl phone from there, SERIOUSLY?

"Look how cool this stuff is!"
"Cool aliens?"
"Well, what would you call me?"
"An alien."

LOL, DOCTOR

And then Amy tries to convince River that they need to save the Doctor but River makes a good point-- if they do, PARADOX. Which is a no-no.

On the tunnels: RIVER SPOTS THEM.
RIVER: OH, LOOK AT THIS
MY DAD: Yeah, those are sewers. WE HAVE THOSE IN AMERICA.
We watched a thing on Medieval England and their icky sewer streets a while ago, THIS REMINDED ME OF THAT.

DOCTOR: CAREFUL, YOU BE
RIVER: "Don't worry, I'm quite the screamer. Now there's a spoiler for you!"

sjkdnfjkansjdghbdjscnjsdbhcbhbsdhhcbjsajkdbcbsdbncejfnsjdbvcjhf



RIVER SEES THE SILENCE BUT DOESN'T SCREAM she forgets :|



Rory is forced to team up with River in the icky tunnels. River has stomach pains, leading us to CONFUSION AND WHATNOT but she says it must be the prison food.
1. IS RIVER PREGNANT?
2. IS THE PAIN SOMETHING ELSE?
3. IS THIS TO THROW US OFF OF THE AMY IS PREGNANT THING?
4. ugh moff wants to break us I swear

AND THEY HAVE A FANTASTIC MOMENT OF MOMENTNESS.

"What did you mean, what you said to Amy? "There's a worse day coming for you."
"When I first met the Doctor, a long long time ago, he knew all about me. Think about that. Impressionable young girl, suddenly this man just drops out of the sky. He's clever and mad and wonderful, and knows every last thing about her. Imagine what that does to a girl."
"I don't really have to."
"Trouble is, it's all back to front. My past is his future. We're travelling in opposite directions. Every time we meet, I know him more, he knows me less. I live for the days when I see him. But I know that every time I do, I'm one step further away. The day's coming when I'll look into that man's eyes, my Doctor, and he won't have the faintest idea who I am. And I think it's going to kill me."

THESE TWO. Have been so wounded by the Doctor, in such different ways. Amy has been too, but not like Rory has been and the way River will be. jsbajfdgh REALLY, THEY'VE ALL BEEN WOUNDED. It hurts my heaaaart.



GASP IT'S THE LODGER TARDIS. And River messes with it. Rory sees the Silence, DOESN'T THINK TO YELL QUICKLY, and then forgets FOR FUCK SAKES JUST YELL WHEN YOU SEE THEM YOU GUYS this is such a horror film. Then Rory is... SOMETHING'D. D:



Amy and Canton have a lovely moment. IT IS APPARENTLY illegal for Canton to marry. My mind first jumped to "... IT IS?" and then to "OOOH IS HE GAY?" and NGL, I'd like some sort of out-of-this-world explanation (/ridic) BUT BEING GAY WORKS TOO, I SUPPOSE? jsdbfjbsdjfbh anyway. Canton asks who classified the Doctor's name, and Amy doesn't know. I WONDER, RANDOMLY, WHY NO ONE BUT SERIES 4 RIVER KNEW THE DOCTOR'S NAME.



This moment was big, I think.

"I haven't seen him in a while. ... I had something I wanted to tell him."

AMY SOUNDS SO FOND and then so confused/unsure/something idk. SOMETHING IS JUST SO... OFF ABOUT THIS MOMENT, I FEEL

oh and Amy is GORGEOUS DEAR SWEET MOTHER OF KITTENS.



And then everything gets weird again. They hear the little girl scream, and suddenly Amy's stomach pains return. She realizes she needs to tell the Doctor RIGHT NOW and the Doctor is like "REALLY? NOW?" They find Canton's been knocked out.



Amy has to tell him right now, even as they are kneeling by a knocked-out Canton after hearing the little girl scream. She's pregnant. She had to tell him that she was pregnant. I'LL BE HONEST, while I suspected she might be (though: do pregnant women have pains like that? I DID NOT KNOW THIS?) pregnant, I didn't think that'd be the important thing to tell the Doctor. I MEAN. WHAT. Is that what the Silence meant? Did she misinterpret them? Is she pregnant? Is she not pregnant? Is she so upset because Rory isn't the father? Who is the father? Is the Doctor somehow the father-- is the Silence the father? Is there no father? WHAT IS HAPPENING?



The astronaut approaches, and when Amy sees it she goes for Canton's gun. The astronaut lifts it's helmet cover. It's a little girl, the Doctor is shocked. And, in slow-mo, Amy jumps up and shoots at a small child. WHAT THE ACTUAL kbsdjhfjbdjsf WHAT IS HAPPENING WHAT JUST HAPPENED I CANNOT EVEN DEAL WHAT WHAT WHAT WHAT WHAUBashxvhsvjjbdvkhvzfjsdfh

WHERE IS SATURDAY WHEN YOU NEED IT OH MY GOD

QUESTIONS/ETC/FINAL THOUGHTS
1. Is Amy pregnant? Is River pregnant? Is Amy just confused? I'll be honest; I'd like it if Amy was actually pregnant, assuming it wasn't handled too ridiculously. I think it's pretty unlikely she is; there's no set pictures of her pregnant/or in the trailers. Maybe it's a well-hidden secret. I DON'T KNOW IT DOESN'T MAKE ANY SENSE.
2. What is the Silence? What do they want? AND, IN FACT, ARE WE 100% SURE THAT THE MONSTERS HERE ARE THE SILENCE? I mean, supposedly we are, but what if we're being trolled? IDK, I AM DUBIOUS. And for some reason I liked the Silence better when it was just a crack/a voice. It seems odd that the Silence, the supposed big S6 bad, is so big in the first two episodes. They feel more like a for-these-two-episodes bad than a series-long bad?
3. What did the Silence want Amy to tell the Doctor? That he died, that she was pregnant, both, something else?
4. What are the old tunnels under the earth from? What is up with The Lodger TARDIS? What does it have to do with that episode?
5. Is the lakeronaut/astronaut the same person as the little girl!astronaut? Is the lakeronaut the little girl grown up, or not her at all? How did the little girl get in the astronaut suit? Why? I'm thinking the lakeronaut is someone we really won't expect-- Amy or Rory? Or maybe the girl. It's strange, all of it. We don't see the lakeronaut but we see the astronaut revealed to be the girl. But are they the same, still? How did the lakeronaut get in the 2011 lake, especially if originally in 1969 Florida?
6. What does the astronaut have to do with the Silence-- if anything?
7. Who is the little girl? Is she just a random girl? Is she Amy/Rory spawn? Is she Amy/Doctor spawn? Is she River Song? I can't believe she's River-- it's too obvious/why would she shot herself/why wouldn't River show any sign of recognition on her face? I don't know about Amy spawn. Mostly because of the accent, but also why would she end up in 1969 America in a spacesuit? Timey-wimey? I BET SHE'S JUST SOME RANDOM GIRL. Important, but not like how we think.
8. WHO IS RIVER SONG /forever question
9. In the first Utah scene, does the Doctor greet Amy, Rory, and their unborn child or no?
10. WHO IS JIM THE FISH AND CAN WE MEET HIM
11. If the Doctor's really dead at 1103, what does that mean? Will he become undead-ed? Or... WHAT? WHAT EVEN.
12. Did the little girl!astronaut knock out Canton? It seems off. He gets knocked out and then a few moments later the little girl walks in. Was she spooked by him and reacted badly? Did something else knock him out, possibly whatever made the girl yell out? Why does the astronaut (is the little girl in there by then?) watch the Doctor+crew scooby-about? Nixon said he was sending his best people, wouldn't she just think it's that? Or is the astronaut, not the little girl, in control? OR WHAT?
13. How did the little girl phone out with no phone?
14. WHAT HAPPENED TO RORY? (based on the next time trailer/clips HE'S OKAY, but still WHAT HAPPENED?)
15. Is the girl okay? (based on the next time trailer/clips SHE IS, and Amy apologizes. BUT STILL, THAT MEANS NOTHING.)
16. WHAT IS HAPPENING jkdsfkjnkjcn